Epomaker EP75
75% Hot Swappable RGB 2.4Ghz/Bluetooth 5.0/Wired Mechanical Gaming Keyboard
75% 82 Keys 5-Pin Hot Swappable Mechanical Gaming Keyboard
10000mAh Battery & Indicator Light
EPOMAKER Pampas PBT Keycaps & Custom Switches
Three Modes of Connectivity: Bluetooth 5.0 & 2.4GHz & Type-C Cable
RGB Backlights & Sidelight Diffusers
Compatible with Linux/Win/Mac
Covid-19の配送遅延のお知らせ
Covid-19の発送はお客様の国の規制により遅れることがあります。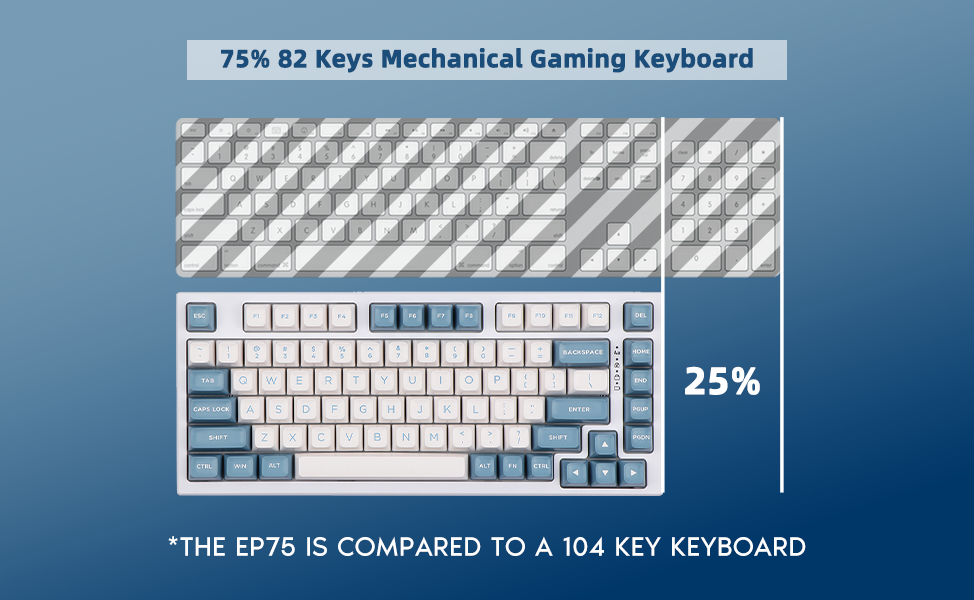 75% 82 Keys Mechanical Gaming Keyboard
Designed in the popular 75% layout, EPOMAKER EP75 will surely take a place in your keyboard collection. The preferred 75% layout offers both typing comfort and space consciousness that maximizes the function while not wasting a minimum of space. It's only about 33cm in length and 13.8cm in width, leaving enough space for the mouse. This layout is widely used and loved by the community and EP75 will surely be beyond your expectation with its practical but aesthetic design.

Three Modes of Connectivity: Bluetooth 5.0 & 2.4GHz & Type-C Cable
Equipped with a phenomenal large-capacity battery of 10000mAh, EPOMAKER EP75 keyboard can work up to 50 hours with RGB backlight on. Being triple modes means you can enjoy wireless and wired connections. By the wireless option, either Bluetooth (up to 5.0) or 2.4GHz is choosable. To facilitate the operation, different modes can be switched easily by pressing Fn+1/2/3(Bluetooth)/4(2.4G)/5(USB-C Wired), and it will be connected seamlessly and rapidly.

3 Pin/5 Pin Hot Swappable Gaming Keyboard
To provide more possibilities and fun, EPOMAKER EP75 also comes with a hot swappable PCB that support both 3 pin and 5 pin mechanical switches. Hot swappable socket provides convenience for those who like to change switches for a different typing feel. This means you can use any other mechanical switches you like on the EP75 without any need for soldering.

EPOMAKER Pampas PBT Keycaps in ESA Profile
To match the EP75 keyboard, we finally decided to go with EPOMAKER Pampas PBT keycaps. Inspired by the vast plains in Argentina, a creation named Pampas came into our minds spontaneously. The Pampas set adopts extremely simple colors, such as light blue and white. Two concise colors can create much imagery and significance behind it. It represents our pursuit of ultimate natural pureness. When you are typing on Pampas, we wish you could feel the rivers, the mountains, and thousands of miles of ocean shoreline in Argentina.

Battery Indicator Light & EPOMAKER Custom Switches
To maintain stable and premium typing experience, EPOMAKER EP75 keyboard comes with EPOMAKER Custom Flamingo/Budgerigar and G-Pro yellow switches. All switches are durable and reliable with real feedback from the community. Moreover, a battery indicator light is added to this model for early alarm of low battery. No more worry about the low battery in any occasion.
製品仕様
Hotswappable
Yes, 3 pin or 5 pin switches compatible
Case material
ABS Plastic
Keycap material
PBT keycaps
Keycap Profile
ESA Profile
Connectivity
USB-C, Bluetooth 5.0, 2.4 GHz
Battery Capacity
10000mAh
Software OS
Windows, Mac, Linux
Anti-ghosting
Supports NKRO in all modes
Dimension
330 x 138 x 32 mm
箱の中身
1 * Keyboard
1 * Type-C Cable
1 * 2.4G Receiver
1 * Instructional Manual
Best MGK I've ever owned - so far
I currently own a dozen of both hot swappable and non-hot swappable MGK from four known brands. This is the first time that I have tried Epomaker so it's like a blind buy for me - which is normal for one who wanted to explore new stuff. The ESA profile is so comfortable - coupled with the Gateron Pro Yellow switches (which I definitely feel like pre lubed).
Although I have Gateron Pro v2.0 Black switches which I wanted to try on this EP75, I mostly feel that I would rather keep the yellow switches on - and enjoy for some time before swapping in the black switches (yes, that's how really comfortable this current build).
I'm not sure if EP75 has a corresponding model that is built with a knob - or did just miss it on the website? It's the next thing for me to watch out for.
I would definitely recommend this model to every MGK lovers. I thought it's a must in your collection and experience. - Ed
what a good keyboard
It's one of the best keyboards I've ever seen and the best I have and use because it's very good to play writing (I'm writing with it now :>) but what a good keyboard it's one of the best I've ever seen and the best keyboard for the price put on it
FAQ
Shipping & Handling
Which countries do you ship to?
We are generally able to ship to most countries via DHL Express, and many countries via Standard Shipping. You may clarify with our team to see whether Standard Shipping is available to your country.
Note: For the country of UK, India and Russia, we can only do Standard Shipping. For countries of Africa, Argentina, Hawaii, Kuwait, Mauritius, Montenegro and Sri Lanka, to name a few, we can only do Express Shipping. Click here to read our Shipping Policy.
How much does shipping cost?
We have two shipping methods - Standard Shipping and Express Shipping.
Standard Shipping Is free for most countries/areas.
Express Shipping via DHL Express is 10-40USD depending on your country. If your order is over 500USD, DHL Express Shipping is free*.
*The GK96S, SK96S, AK84S and NT68 are exceptions for free shipping.
Shipping fees exclude import taxes or processing fees that might be applicable for your country. Epomaker is not responsible for any form of such fees.
How long does it take to receive the order after it is placed?
For in-stock products, your order will be shipped within 3 working days. Customized items will take a longer time (do check in with our staff for more information). On normal non-sale days, once your parcel is shipped:
For Standard Shipping, it takes about 2-3 weeks for items to be delivered after it is shipped. For some countries, it might take up to 2-3 months, depending on your country and its custom procedure. The duration for transit is beyond our control. Epomaker does not arrange refunds for such cases. Please consider an upgrade to DHL Express or keep the waiting time in mind.
For Express Shipping, it takes about 3-7 days for items to be delivered after shipping out.
*Note: Shipping period might be affected due to festive seasons or other unforeseen circumstances.
Warranty & Returns
7-Day Return Policy
On the ground of disliking a product, you may return any non-customized and non-sales product that is sealed, within the 7 days upon receiving it. To be eligible for a return, your item must be unused and in the same condition that you received it. It also must be in the original packaging.
Customized and sales products, accessories, or spare parts are excluded from the 7-day return policy. The shipping fee, handling fees, or any form of tax caused by return will NOT be refunded. Additionally, a restocking fee (35% of the item's retail value) will be charged under this circumstance... Click here to read our full return policy.
1 Year Warranty
Epomaker offers a 1-year warranty for keyboards and DIY kits, and offers a 6-month warranty for keycap sets and cases (e.g the case-only product sold separately). Batteries will be covered by the 3-month warranty. Accessories such as keycap pullers, switch pullers, free spare keycaps, cables etc., are excluded from the warranty. To claim for a warranty or confirm whether your product is eligible for return/warranty, please kindly contact us via support@epomaker.com.
The warranty does not extend to any product whose serial number has been defaced or altered, just as the warranty will cease if you make modifications in the software not authorized by Epomaker. Click here to read our full Warranty Policy.
48 Working Hours response to Support Inqueries.
For items that are damaged, incorrect, or faulty upon delivery, you must contact support@epomaker.com within 7 days upon delivery. You need to provide any solid proof of the problem you come across. Epomaker will help you identify the problem, and may cover the shipping cost according to the agreed amount. Please kindly note that a shipping fee that is extremely higher than the 15% of product value is non-refundable. The shipping fee won't be refunded if the product is not with any manufacturer defects.
Product Questions
How to choose different switch options?
To choose the suitable switch, it depends on the scenario you use the keyboard and your preference on the typing experience. Here is our helpful guide for your reference: View our Switch Selection Guide
Where can I find the manual/software/driver for my item?
For manuals and software, you may find it in this link: software downloads page
Are there any keyboard with layouts other than ANSI (US Layout)?
As the ANSI is one of the most popular layouts around the world, our keyboards are following this trend for now. For other layouts, we will try our best to make them available on our website in the future.
I want to make myself a DIY keyboard. Where can I find some help?
You may join our Discord to ask for assistance: Click here to Join