Epomaker Spring Sales 2022 Announcement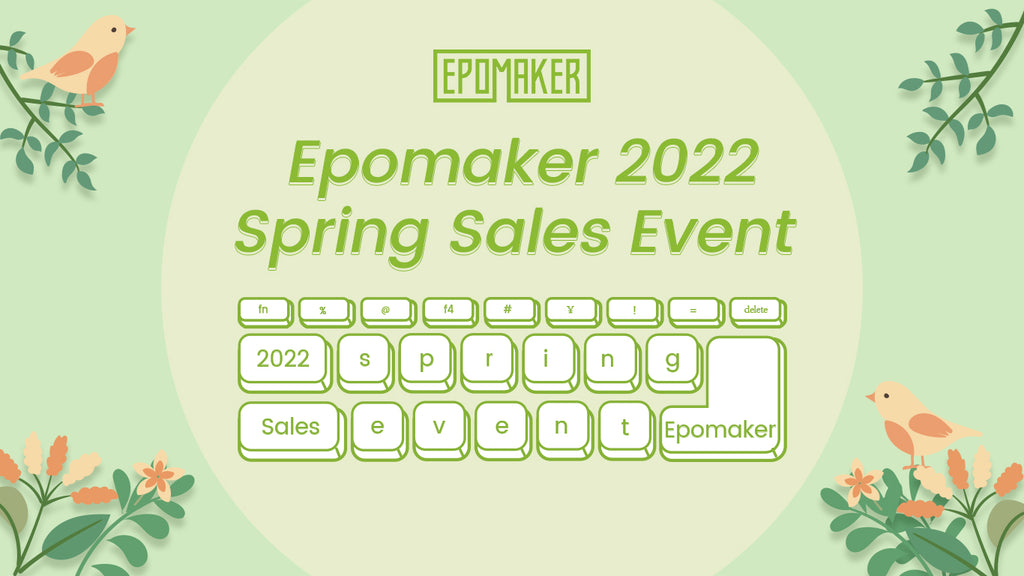 Greetings everyone!
Blossom by blossom, the spring begins. This is a season full of hope and love, as well as a way that nature says "let's party!" With a blessed heart and love, we at Epomaker are hosting the Spring Sale Event! The event will officially start from 00:00 am 28th March to 23:59 pm 1st April 2022 (GMT+8). 
New beginnings, new desk setup! Hope you have fun in the sale, and enjoy a warm, beautiful, and lovely Spring!
Pre-launch: Epomaker.com Giveaway 18th - 27th, March 2022
Before the sales event, we would like to know more about your voices on our gears. Fill up the simple questions, and get entries to win free gifts! We are giving away our new SK61 Macaron, Epomaker TH80, a high-quality Epomaker Rainbow Glowing cable, and 15 pieces of $15 Epomaker.com Voucher to 18 lucky winners! Click here to join!
Prizes:
Epomaker Rainbow Glowing Cable X1
Epomaker Voucher $15 X15
Spring Sale: From 00:00 28th March to 23:59 1st April 2022 (GMT+8)
Storewide 10% Discount
Enjoy a storewide discount on the event! No more fussy calculations, all the products are automatically discounted. Mind the countdown reminder of the deal before it's gone!
*Some products and accessories are excluded from the 10% off discounts. Check the rules and disclaimer for more information.
Flash Sales: from 00:00 31st March to 23:59 1st April 2022 (GMT+8)
April's Fool? No, we are NOT kidding! By the end of March and on the very beginning day of April, a FLASH SALE (up to 20% off) will begin! Another exciting news is that the Keycap Sets in our store have a limited deal at 12% off! *The Store-wide 10% is still available for other products during this period.
20% off
SK87S ABS Version
15% off 
12% off
Share your order on Discord!
Join our Discord to share your order number AND your thoughts on Epomaker, and you may win a chance to get your order at half price! 
How to enter?
Join our Discord 

Share the last four digits of your order number in the channel

#love-from-community

and your thoughts on the Epomaker 
We will select three lucky winners who posted the order number and thoughts in the #love-from-community and provide a 50% refund to the posted order. 
Bonus!!
If the three lucky winners would love to share a photo of the products with a short product review on Reddit r/mechanicalkeyboard after receiving the products in 2 weeks, we will provide a full refund for the posted order.

Please note: the posted order should be placed within the sales period (28th March - 1st April, GMT+8). We will randomly select three lucky winners and provide a 50% refund to the posted order. After receiving the products, the three winners who are willing to share reviews can contact the Epomaker support team (support@epomaker.com) with your review link to claim the remaining half refund. 
Rules and Disclaimer
All sales products, including but not limited to vouchers and sale products are available until they are out of stock.

Shipping options may be limited to standard or express, depending on your location.

The vouchers issued during the sales events can not be applied to

New Arrivals

,

Cables

,

Switches

,

Keycaps

, and

Products

under price protection

(including but not limited to, Epomaker AK84S, Epomaker NT68, Epomaker LITE,

etc.)

Epomaker is entitled to cancel any order trying to exploit the coupon/reward system without notice.

The Flash Sales for Store-wide Keycaps in does not apply to the New Arrivals with discounts.

Epomaker reserves all the rights.