Epomaker Keyboard Video Reviews 2021 May: AK84, B21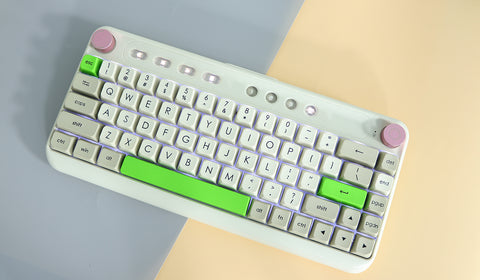 Epomaker B21 65% Retro Wireless Mechanical Keyboard Review 
- by AngelPGC May 5, 2021
"This keyboard has a retron ergonomic design, with easy accessible knobs and multi-media key controls .. Overall, I'd say this is a keyboard for those who want a nice retro keyboard on the desk at an affordable price."
Epomaker AK84S 75% Wireless Keyboard Review
- by AngelPGC May 17, 2021
"This keyboard is perfect for those who want a compact size and a function row at the same time. With all of its feature, this board is worth it. Highly Recommend! "
Innovative Switches and Soft Keycaps?
- by Jimmy Nguyen May 17, 2021
"The bluetooth is convenient when it works - I hope you have a better time with it than I did. The separate windows and mac layers are nice for someone like me how uses both operating systems. And finally, I like the optical chocolate switches more than the gaterons, mainly because of the sound."
Hotswap Keyboard with SILICONE Keycaps?!
- by The Portly Gamer May 18, 2021
"I think this is a really exciting keyboard. You have a 75% hot-swappable keyboard starting at $69. I started to feel like the mechanical keyboard market outside of customs was starting to feel stale. It was starting to feel the same. it feels like people are starting to shake things up and give us cool new options, to really change things and not be so bored with the same black and white RGB gaming keyboards out there."
Epomaker AK84 Review + Chocolate Red Switches? 75% Wireless Hotswap Mechanical Keyboard
- by The Dredgen Project May 21, 2021
"Going to the design and layout of the keyboard, it has a very simple and straightforward design.. An improvement over previous Epomaker keyboards is the presence of a power button at the back. Going to the keycaps.. the GK1 (keycaps) I have here.. is Epomaker's own profile and I like this on the GK96 when it was released. It is relatively flat and there are scoops that make typing on it really comfortable. These are made of PBT and feel really nice in the hand."